Welcome to Md Tattoo Studio


A Custom Tattoo Studio & Art Gallery in Northridge California.

Click "Artists" For Quick Links To View Our Artist Profiles And Their Tattoos!

To set up an appointment with one of our artists, feel free to call the studio at 818-700-2818, email us, or stop by to discuss your ideas.

The "Store" page includes tattoo books such as Cranial Visions, Animal Ink, Tattoo Prodigies, The Coloring Book Project's, and much more! Also available are fine art prints and MD Tattoo gear.

Artists Here at MD

January 22, 2013

Throughout the years we've had a few artists come and go so we'd like to introduce a couple of new artists that have joined the studio. Marc Durrant has been tattooing since 2008 and has been with us since 2011, he specializes in bright colorful tattoos and also does some amazing realism tattoos. Our newest addition to the shop is Daniel Chashoudian, he has been tattooing since 2006 and has a passion for black and grey tattoos. Katelyn Crane, Jamie Parker and Mike DeVries are still with us as well so be sure to check out all of the artist profiles at www.mdtattoostudio.com/artists or click on the artist links below. Thanks!
Animal Ink: Exploring the World's Wildlife Through Tattoo Art

January 05, 2012

Excited to announce that Animal Ink: Exploring the World's Wildlife Through Tattoo Art is now Available! This high-quality 11" x 8.5" hardcover book is brought to you by Memento Publishing and features the work of an all-star list of Tattoo Artists.
Animal Ink: Exploring the World's Wildlife Through Tattoo Art, is a feast for the eyes and is brimming with inspiration. Featuring 304 full-color pages, this artistic beauty not only contains tattoo work from 160 talented tattoo artists, but in addition, includes 62 stories about specific animal tattoos with details, meanings, and inspiration from the collectors who wear the ink and the artists who inked them.

Animal designs have appeared throughout history in all facets of the art world, so it's no surprise that utilizing animals' beauty, strength, and grace has been a large focus within the genre of tattoo art. For those seeking animal tattoos, there is an endless array of styles, creativity, and artists to choose from and Animal Ink encompasses and celebrates these many different displays within its pages by featuring over 1,500 tattoos from creatures of the wild kingdom. Click here to order your copy today!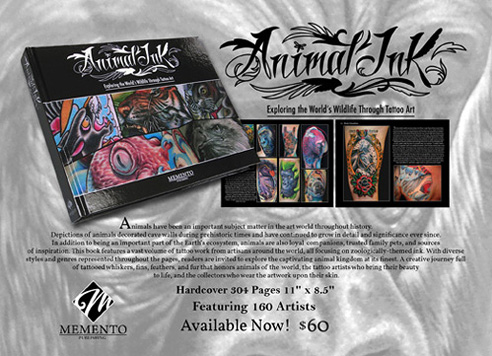 Tis the season

December 08, 2011

2011 has come and gone by so fast we can hardly believe it. It has been a good year for us, many conventions, even more tattoos, and lots of friends and memories made. Sadly we have said goodbye to Josh Duffy, as he embarks a new journey with our friends at Timeline Gallery, a little closer to home for him. But we have welcomed artist Marc Durrant to the family! He's an awesome guy, and now displays his work in our gallery, be sure to check him out!
We know that this holiday season is more about thinking about the ones we love before ourselves. We have giftcards available at the shop too, for that special person in your life that you know has been talking about getting that tattoo they've wanted forever, but for some reason or another just havent gotten around to doing. One of the only gifts that will truly leave a lifelong impression on someone, we can help you give them something that they will love and be with them for the rest of their lives.
Happy Holidays everyone, from our families to yours.
With The Light Of Truth

October 16, 2011

With The Light of Truth is published by Memento Publishing and was compiled by Dan Smith. 13 inches by 9 inches. 256 full-color pages. Hardcover, with a gorgeous front cover that features gold foil embossed on black saifu cloth; gold gilded edges; and a black ribbon bookmark. Each book comes shrink-wrapped. To top it all off, it's only 50 bucks!
The interview questions and profiles in this book are very uplifting and present a positive outlook on life, which can further be seen through each of the featured artisan's accomplishments. Each artist has their own profile, with interviews, a photo of themselves, and a page of artwork which was created specifically for this book. There is also a gallery of each participant's tattoos to follow their profile. Click here to your your copy today!